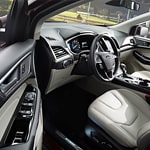 Design is a key part of a vehicle's build and look. Vehicle designers at Ford have gone to great lengths to make the Ford Edge look as it does now, and we're very impressed at Osseo Ford Sales & Service Inc. First of all, the Edge looks as good as it can - it's one mid-size SUV that's been catching a lot of eyes here.
Another great aspect of the Edge's design is the interior comforts. A leather-wrapped steering wheel will feel comfortable and commanding in your hands, while the car's available 180-degree camera system will help you stay aware of anything that's around your vehicle. In other words, the Edge will give you an edge when it comes to your safety and security.
To see the Ford Edge firsthand, come say hello to us here at Osseo Ford Sales & Service Inc. A test drive would be easy to set up and is just the thing you need to see if the Edge is for you.