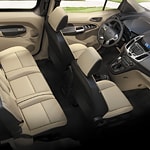 Renowned for its configurability, the cargo and passenger Ford Transit Connect van is also a class leader in smart features. Roughly 127 cubic feet of cargo space as well as an estimated EPA fuel economy rating of 24/27 mpg city/highway make this the day's top workhorse van, not to mention the most intelligent. Our Osseo, WI Osseo Ford Sales & Service Inc selected the following smart features for your info.
Pre-Set Cruise Speed and Following Gaps
There was a time you had to brake, accelerate, brake, and idle repeatedly when stuck in bumper-to-bumper traffic. Ford Transit Connect's Adaptive Cruise Control eliminates this scenario. It's a feature that lets you pre-set cruising speed and even following gap distance. Ford Transit Connect then does all of the braking, decelerating, and accelerating for you, maintaining optimal following speed and following gaps in tight traffic.
In-Vehicle Wi-Fi Hotspot
Enjoy an AT&T-powered 4G LTE in-vehicle Wi-Fi hotspot with the embedded FordPass Connect in-vehicle modem. Equipped with a wide enough bandwidth to host up to 10 connected devices, the network spans a 50-foot radius outside of the Ford Transit Connect, supplying a strong, fast mobile connection in even the most remote locations.